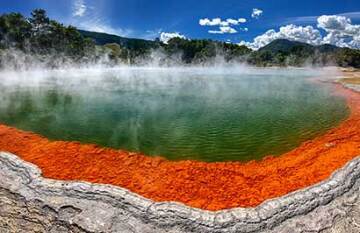 Explore Rotorua
Peppered with natural hot springs, boiling mud pools and steaming geysers, Rotorua sits within one of the worlds most active volcanic regions. Geothermal landmarks aside, this city of sulphur has a rich indigenous history. Home to several prominent Maori tribes, a visit to one of the Maori Villages should be high on your agenda, as should an excursion to the Polynesian Spa for an invigorating soak in its natural mineral hot springs.
Spike your adrenaline at Velocity Valley Adventure Park on stomach-dropping attractions such as static skydiving, or a giant swing reaching 130 km per hour. Alternatively, head up the Rotorua Gondola for soaring lake views, and ride the luge at night for an extra thrill.
Fans of Lord of the Rings and The Hobbit should drive to nearby Matamata and experience the actual movie set 'Hobbiton'. Make the most of your time in Rotorua with an excursion through the Wai-O-Tapu Thermal Wonderland, one of the area's most colourful volcanic attractions.
SUGGESTED ACTIVITY - National Kiwi Hatchery Tour
The National Kiwi Hatchery Tour is a special opportunity to gain insight into and view this highly regarded conservation centre. Developed with the visitor experience in mind, the hatchery boasts special viewing opportunities and is hosted by kiwi expert guides who ensure guests leave fully informed and all questions answered. Learn all about New Zealand's intriguing national icon and the efforts of the kiwi husbandry team, see and discover what it takes to hatch and rare chicks, and if you're lucky, see baby chicks in person!
SUGGESTED ACTIVITY - Rotorua Canopy Tours: The Original Canopy Tour
Embark on a three hour adventure through native New Zealand forest. Journey through the beautiful forest canopy via an incredible network of trails, tree platforms, Ziplines and swing bridges. See breathtaking views of the woodland valleys and hills as you fly through tight openings in the trees. In between the thrill of the ziplines and suspended tree bridges, your guides will share their passion and knowledge for the forest and the conservation challenges to preserve it.
SUGGESTED ACTIVITY - Polynesian Spa Lake View Private Pool
The geothermal mineral waters of the Polynesian Spa in Rotorua are sought after the world over as one of the top 10 spas in the world. Indulge your need for a little luxury and enjoy some time in a Private Deluxe Pool, with stunning 360 degree views over Lake Rotorua, you will be left in peace to soak your cares away. Available for blocks of 30 minute hire with a minimum of two adults, this is the perfect activity to enjoy a relaxing afternoon with your partner.