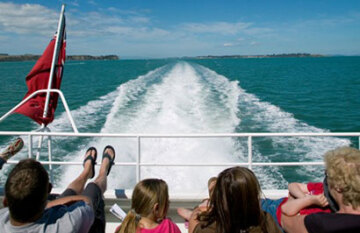 Collect your rental car
This tour can be priced with any of the rental cars available in our fantastic range, from economy hatchbacks to prestige saloons and SUV's.
Explore Auckland City
Perched on the edge of a large natural harbour, New Zealand's 'City of Sails' offers the best of both worlds. Sandy beaches, native bush and lush rainforests give way to a vibrant urban culture, humming with life. Spend time in the Viaduct Harbour, try your hand at sailing an America's Cup yacht or take the ferry to nearby Waiheke Island for a gourmet food and wine experience.
Walk (if you're that way inclined) to the top of Auckland's highest volcano, Mt Eden, and take in soaring views of the gulf. Pack a picnic lunch and lose yourself in one of the 800 regional national parks on offer or grab a book and relax on a deserted beach. Head up the Sky Tower, standing at just over 300m tall (about 1,000 feet) and have a meal in the 360 degree revolving restaurant. Scale the outermost perimeter of the Harbour Bridge or test your stomach and bungy off both. To end your day, catch a cab to Ponsonby Road and sample some upmarket culinary delights.
SUGGESTED ACTIVITY - Auckland Harbour Bridge Climb with AJ Hackett
The only bridge climb in New Zealand, this spectacular AJ Hackett walking tour is the ultimate way to experience the iconic Auckland Harbour Bridge. Custom engineered walkways provide a safe and enjoyable experience. As you're guided along the curving archways you'll be greeted with a 360 degree, panoramic view of the sparkling Waitemata harbour. See the best of the city from above and learn all about the secrets of the bridge!
SUGGESTED ACTIVITY - Wētā Workshop Unleashed
Explore worlds of horror, sci-fi and fantasy in the making. An exciting, realistic, and authentic experience, with three fully developed and original film concepts: A nail-biting horror Fauna, a fantasy epic Age of the Ever-Clan, and the mind-bending sci-fi Origins.
A 90-minute guided experience through fully themed environments, including immersive horror, fantasy, and sci-fi story worlds. Be immersed by a specially-created unique sweeping cinematic soundtrack, animatronic creatures, physical and digital interactives, hyper-realistic sculpted giants and characters, a horror house experience, and much more.