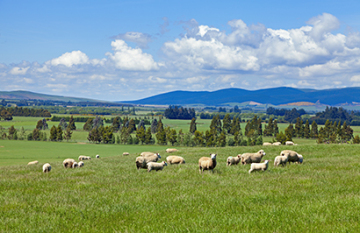 Collect your rental car
This tour can be priced with any of the rental cars available in our fantastic range, from economy hatchbacks to prestige saloons and SUV's.
GPS navigation
Navigating New Zealand can be done easily in two ways. If you have a smartphone, you will be able to connect it to the USB of your rental car and your maps and other apps will display on the screen in the centre console of your vehicle, with the sound coming through the car speakers.
If you don't have a smartphone, chat to us to ensure we book you a car with a portable GPS system. Your portable GPS features a simple touch screen interface, with automatic route calculation and turn-by-turn voice-prompted directions, which announces street names. The automotive-grade GPS unit is easy to use and has multiple language options.
Christchurch to Twizel (via Aoraki Mount Cook National Park)
Today you head into the heart of the South Island. Crossing the vast Canterbury Plains along the inland scenic route, Geraldine offers an ideal stop before you head into Mackenzie country. Ascending Burkes Pass, you'll enter New Zealand's high country. The picturesque town of Lake Tekapo, is the first of the large Southern Lakes on your journey. Enjoy the magnificent views from the shore, boat or air by taking a scenic flight. On arriving at Lake Pukaki, you'll be rewarded with a spectacular views of Aoraki Mount Cook, towering over the lake. Driving along the lake, you'll find your destination, Mount Cook Village. Enjoy Aoraki Mount Cook National Park by having a glacier landing with ski plane or helicopter, kayaking on a glacial lake or by walking one of the many tracks. At The Hermitage Hotel the Sir Edmund Hillary Centre is a must see. Return along the shores of Lake Pukaki to Twizel, your base for the evening.
SUGGESTED ACTIVITY - Edmund Hillary Alpine Centre Explorer Pass
A tribute to New Zealand's Sir Edmund Hillary - humanitarian, ambassador and one of the world's greatest explorers - the centre showcases the Aoraki Mount Cook region and its people within a comprehensive museum as well as a 126-seat custom-designed theatre and Digital Dome Planetarium.